Lights On Afterschool Open House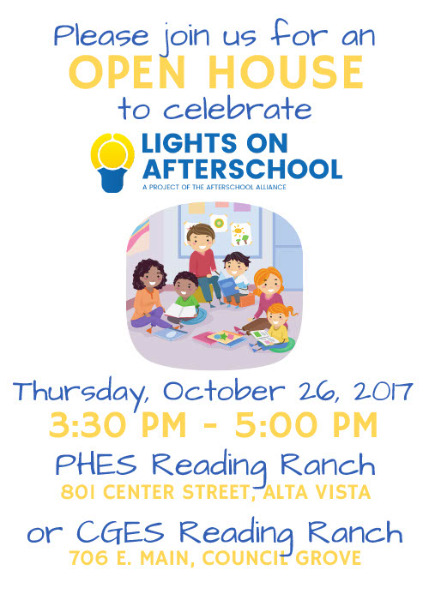 We would like to invite you to join us for our Lights On Afterschool Open House on Thursday, October 26th. The Reading Ranch at Council Grove Elementary School (in the former middle school building) and the Reading Ranch at Prairie Heights Elementary School (main building) will be open from 3:30 p.m. - 5:00 p.m. We invite you to celebrate our students who are working hard after school to improve their reading skills while having fun!
In the state of Kansas, over 90,000 students are alone and unsupervised after school. USD #417 has two wonderful programs - the After School Program and Kansas Reading Roadmap Reading Ranch - that provide safe places for children to go after school.
Come see how our students are growing and learning to read! If you have any questions, please don't hesitate to ask.
Christy Buchman, KRR Coordinator
Council Grove Elementary
620-767-6851
Justine Liddick, KRR
Prairie Heights Elementary
785-499-6313